It's been a month our 2nd annual CURLFEST, and we are still on a high! After 6 months of planning, and having to postpone the event due to weather, we couldn't wait to show everyone what we had in store this year. By the time August 29 finally arrived, the anticipation for this year's CURLFEST was at an all-time high with unprecedented buzz on social media. And yet, we were still nervous.
Summer is almost over, will people still come? How can we compete with so many other events in 1 day? What if the weatherman is wrong and it rains AGAIN!
Lucky for us, the weather was beautiful, and CURLFEST 2015 was everything we could have imagined and more! The positive energy was tangible as Prospect Park slowly filled with a sea of natural beauties, and our partners and vendors provided plenty of activities to showcase the best in beauty, hair care, fashion and more. Check out our official video below, as well as a few highlights from the festival that for us truly was a dream come true.
---
SHEA MOISTURE BRAID BAR
Master Stylist Diane Bailey and the Shea Moisture team created cute braided and twisted styles for ladies in attendance. Their station also featured a t-shirt shredding station where you could remix your own Shea Moisture t-shirt with fringes and cutouts!
EXPRESS YOURSELF WITH DARK & LOVELY 
The Dark & Lovely team treated ladies to complimentary illustrations by artist Sharee Miller of Coily & Cute! Stylists were also on hand demonstrating various styles with the Au Naturale collection.
KINKY CURLY PICNIC PORTRAITS
We got creative with our photo booth this year, and partnered with Kinky Curly to created a cute swing portrait station with fun props and prizes! The picnic portraits were a huge hit, with people lining up for photos throughout the entire event. We had so much fun with this feature, and hope to bring it back in 2016!
CAROL'S DAUGHTER APPRECIATION STATION
To close out their famous #urappreciated campaign, Carol's Daughter graciously offered complimentary massages by Grae Therapy, and surprised guests with "Tokens of Appreciation" that could be redeemed for prizes, including full-sized products and canvas totes. Since Curlfest we've been sharing the new #BornAndMade photos on our Instagram page (check out Melody & Tracey). Make sure to do your own at BornAndMade.com!
CURLS CANDY SHOPPE
The Curls Candy Shoppe was entirely too cute, with all types of candy for your summer sweet tooth, and plenty of product samples for people to try. Their Blueberry Bliss Curl Control Jelly is currently the #1 top-selling new product at Target, so if you got it in your gift bag, post your style on Instagram and tag #CurlyGirlCollective so we can see it!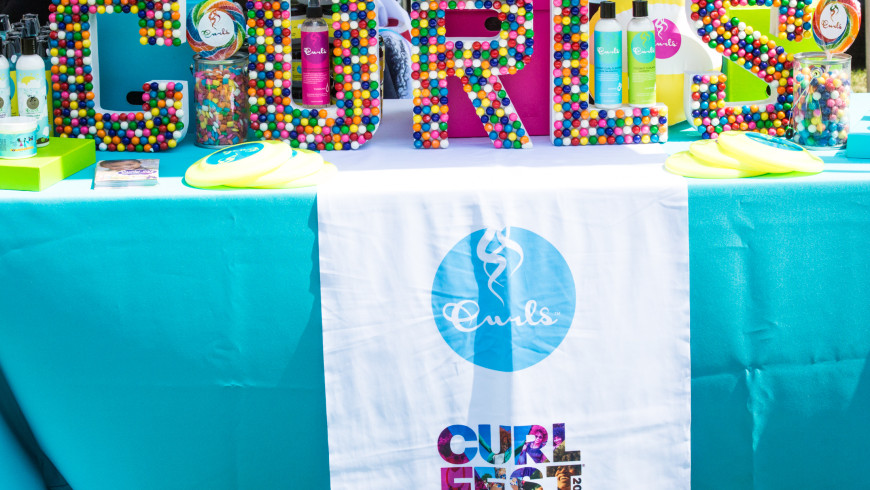 EDEN BODYWORKS: 
RELAX, REFRESH, RETREAT! 
The EDEN Bodyworks team made sure we all stay fit and fabulous (despite all the dietary fails of summer) with healthy recipe cards, yoga mats, and all-natural products for adults and children. They also hosted demonstrations in the CURLFEST Pop-Up Salon (see far below for photos), showing some great tips on styling with the #EDENKids line.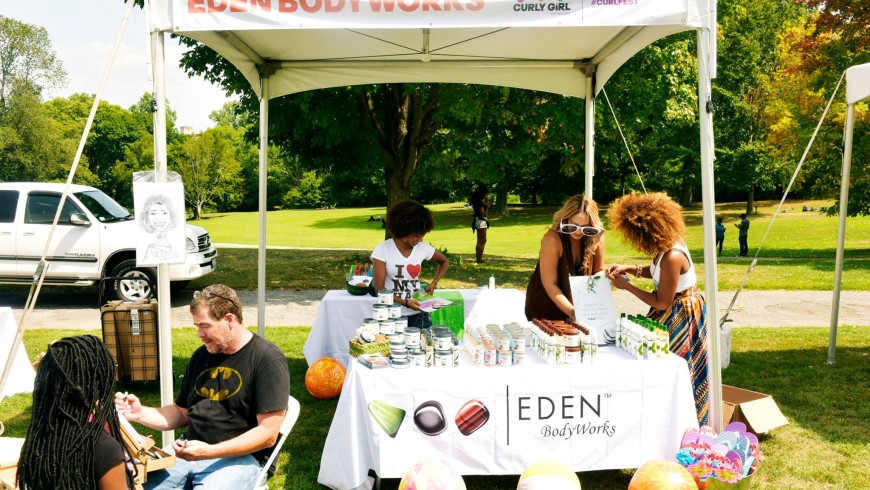 CANTU STATEMENTS OF BEAUTY
Cantu celebrated all the natural beauties at CURLFEST with various statements from their new "Be Your Own Beautiful" campaign. With so many unique styles at the event , these signs were a great way for our guests to show that beauty comes in every color, shape, shade and texture! For more photos check their Instagram page, and share your own portraits at #BYOBeautiful.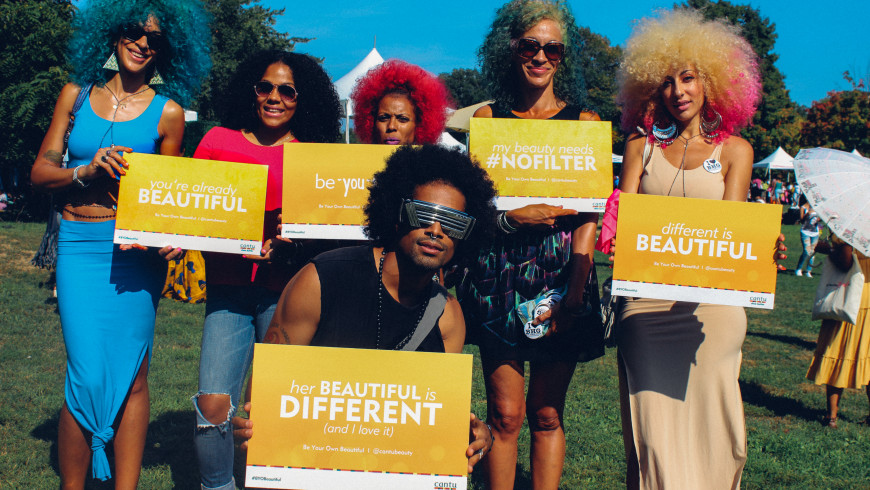 TROPIC ISLE LIVING CARIBBEAN COOL OUT
With a high of 86 degrees, we knew we needed a place for guests to cool down. So we partnered with Tropic Isle Living to create a Caribbean Cool out, with refreshing tropical themed drinks. They also brought these cute fans that came in handy for folks breaking it down in the soul train line!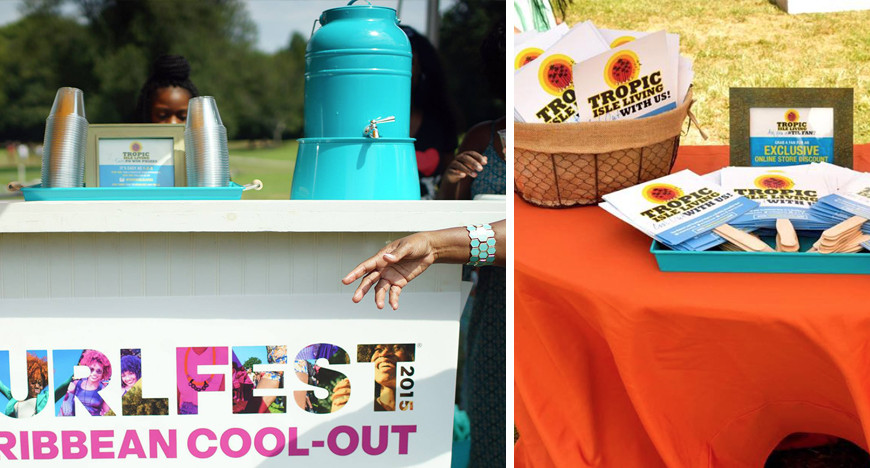 CURLFEST POP UP SALON
The CURLFEST Pop Up Salon was the place to be for those who wanted learn more about the latest products and styling techniques. The team at the infamous Khamit Kinks Salon brought a full collection of products from the Anu Essentials line, and EDEN Bodyworks demonstrated how to create super cute twisted styles for young girls. Denman was the official styling tool for the salon, and provided full-size brushes for our official CURLFEST gift bags.
CURLFEST GIFT BAGS
Our official CURLFEST gift bags, provided by Carol's Daughter, were filled with a wide range of products for the curly girls in attendance. Below are a few snapshots we found on Instagram. Tag #CurlyGirlCollective in your photos so we can see how your products turned out!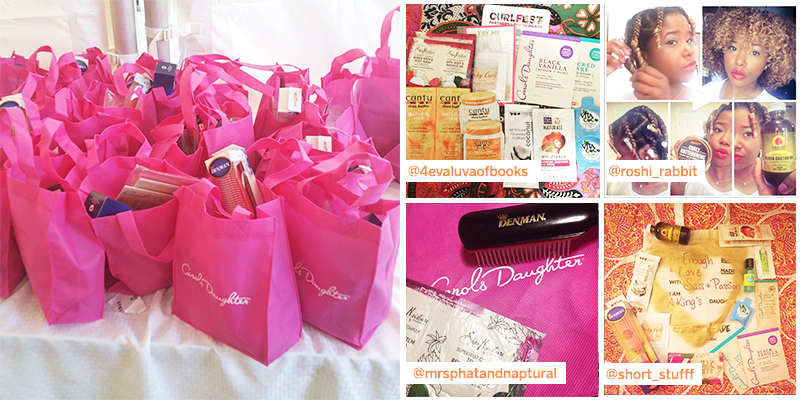 VENDOR MARKETPLACE
Our 2015 CURLFEST  Vendor Marketplace featured a carefully curated group of small businesses selling everything from fashion and accessories, to books and natural-haired dolls! We heard many of you racked up at the Marketplace this year. Tag #CurlyGirlCollective in your Instagram photos so we can show off your new items! Click here for the full list of vendors.
Overall we couldn't be happier with how CURLFEST turned out, and thank each and every one of you who attended this year's festival! A special thanks to all of our event partners, music by Tiff McFierce, photographers Omar Mckenzie, Colin Williams & Bikes & Bacon,  videographers Mandela Gregoire and  Slam Pow Productions, and our AMAZING event team that worked the event.
Follow us on Instagram, Facebook & Twitter to find out what we're up to next, and we hope to see you at CURLFEST 2016!
Click here for more photos from CURLFEST 2015